Nun's voice breaks new ground in music
An article about Devotion published in The Sydney Morning Herald on August 30, 2017, by Joyce Morgan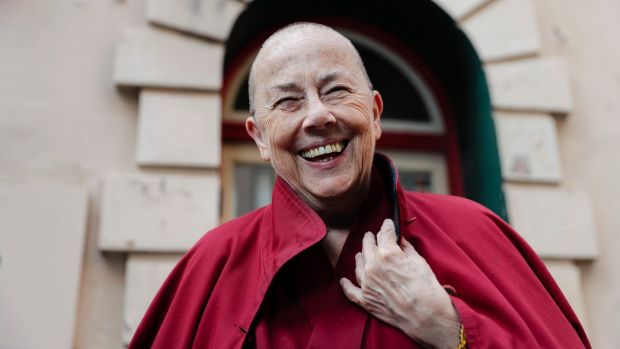 Robina Courtin: Her musical abilities go way back. Photo: Brook Mitchell
Before becoming a karate blackbelt, a radical activist and, eventually, a Tibetan Buddhist nun, Robina Courtin was an accomplished singer.

As a teenager she was taught by her classically trained mother.

"She'd get me to sing lieder. I learned how to use my voice. I remember really enjoying the physical experience," Courtin says.

So when Courtin sang some ancient Tibetan prayers during a public talk in the Blue Mountains a few years ago, a composer and sound artist in the audience pricked up her ears. Yantra de Vilder recognised a classically trained voice.

"She has an authentic devotion, good pitching, and a beautiful tone in her voice," says de Vilder.

She suggested to Courtin that they collaborate, but neither was sure exactly how. Although the straight-talking Courtin knew what she didn't want – asinine New Age music.

"I had an aversion to the way the West interprets Buddhist [music] as airy-fairy, fluty and floaty," says Courtin.

The two women discovered they shared a love of Gregorian chants and of Hildegard of Bingen, the 12th century German abbess and composer.

The result is Devotion, a CD that marries melodies of ancient Tibetan prayers and Sanskrit mantras with Western musical techniques and technology to create a unique blend of East meets West.

De Vilder, who produced the CD and has previously collaborated with Robyn Archer, Australian Dance Theatre and David Helfgott, built up layers of Courtin's voice to create a capella music that evokes more the gothic cathedrals of Europe than incense-filled monasteries in the Himalayas.

"We ended up basically with a choir of Robinas," says Courtin. The "choir" is accompanied by de Vilder's higher soprano voice.

Although there have been singing nuns before – Sister Janet Mead made the Lord's Prayer an unlikely hit – such a meeting of East
and Western musical forms is new ground.

But Courtin, 72, has long take charted a unique course. Melbourne-born, she left for London at the height of the hippy era in 1968.

"My mother hoped I would continue [with singing] there. But I didn't practise. I was ready for revolution."

She got involved with radical feminist and political causes and embraced drugs and sex before becoming a Tibetan nun in 1978. Since then, the martial arts expert has been the Dalai Lama's bodyguard, headed a Buddhist publishing company and worked with death row prisoners.

She has also been the subject of then AFI-nominated film, Chasing Buddha, directed by Amiel Courtin-Wilson, her nephew.

Based in the US for many years, since 2009 Courtin has travelled the world teaching and has no home base.

The CD took four years to complete, and had to fit around Courtin's hectic teaching schedule during which she visited de Vilder's Avoca Beach studio.

"In the studio together, Robina would always begin by making sure her robes were on properly and she did the [traditional] bowing and prostrations. It was like we were entering a cathedral space," says de Vilder.

Courtin likens the prayers on Devotion to the [Catholic] Mass – the tracks have an order to them that will be familiar to [Tibetan] Buddhists. To non-Buddhists, the music is accessible and atmospheric.

While she is familiar with Tibetan musical traditions, it's Western music that touches Courtin.

"If I listen to Brahms or a Bach Mass or Bach cantatas, they are unbelievably moving. They are powerful to my Western ears," she says.

The CD release coincides with her 10-day Australian tour, which begins in Newcastle on September 1. She will discuss the nature of the mind during her "Harness the Craziness" public talks.

Devotion is released on September 1. Further info bodhievents.org

Courtin cheerfully admits she has experienced plenty of craziness during her life. But having added recording artist to her unorthodox curriculum vitae, Courtin remains grateful to her mother's singing lessons half a century ago.

"When I sing my prayers, I think of my mother," she says.